Why should I use a Personal Chef?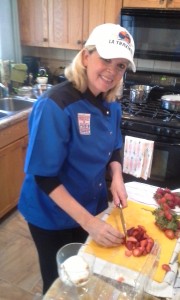 How will Chef Pamela Anne's experiences help me and my family?
What will I learn and how will a Personal Chef improve my life?
Chef Pamela Anne, owner of Simply Go Gourmet, personal chef services has been providing nutritious healthy home-cooked meals for over 20 years.  Based out of St. Charles, IL; serving the western and northwestern suburbs of Chicago. Chef works closely with medical professionals, dieticians and nutritionists to holistically treat and reverse chronic illnesses by preparing whole foods personalized to each client's needs.  Chef has received training from several health conscious professionals such as; Dr. Andrew Weil, Dr. Dean Ornish, Dr. Vincent Pedre, Dr. Sarah Ballantyne, and Dr. Colin Campbell.  Special diet's chef offers clients wishing to make lifestyle changes to improve their health are; Dr. Colin Campbell-Forks Over Knives (The China Study); Haylie Pomroy-Fast Metabolism; Isabel De Los Rios-Beyond Diet; Dallas and Melissa Hartwig-Whole 30 (Paleo Diet); Rebecca Katz-The Cancer-Fighting Kitchen.  Personalized in-home dining plans, small party catering, freezer meal parties, and cooking lessons are all apart of Chef's services.  Eating healthy gourmet meals has never been so simple.
Special Diets include:  Gluten-Free, Dairy-Free, Autoimmune, Anti-Inflammatory, Paleo Diet, Vegan, Diabetic and Weight Management.  Chef's culinary training allows her to prepare all types of cuisine from around the world.